Polyphonous 2020: #streetview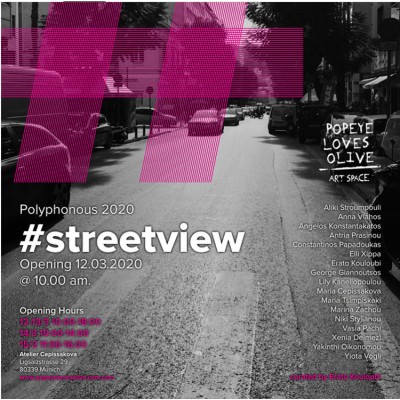 Popeye Loves Olive »
Polyphonous 2020: #streetview
by Popeye loves Olive
Atelier Cepissakova, Munich
Throughout the years Athenas Street has been the market where the western world met the world of the East. It mutated from glorious with its merchants' residencies, to a ghetto of workers, petty traders, prostitutes, and criminals as a constant battlefield. In contradiction to that, it was named after the goddess Athena, a beloved deity of the ancient Greeks, the personification of wisdom, knowledge, and art. It connects the Monastiraki area (the way to ascend the sacred hill of Acropolis) with Omonia Square (the heart of the city) and is one of the main streets of Athens.

Artist list
Maria Cepissakova, Xenia Deimezi, George Giannoutsos, Lily Kanellopoulou, Angelos Konstantakatos, Erato Kouloubi, Yakinthi Oikonomou, Vasia Pachi, Constantinos Papadoukas, Antria Prasinou, Aliki Stroumpouli, Niki Stylianou, Maria Tsimpiskaki, Anna Vlahos, Yiota Vogli, Elli Xippa, Marina Zachou

Popeye loves Olive has invited 16 Greek and one international artist, to comment on how history prevails and how daily life has changed over the centuries, by selecting their materials from this particular street and by creating a community through social media to exchange their inspirational seeds, photos, and stories.
Opening hours:
12th March Thursday, 10:00 am - 18:00 pm.
13th March Friday, 10:00 am - 18:00 pm.
14th March Saturday, 10:00 am - 14:00 pm.
15th March Sunday, 11:00 am - 16:00 pm.