Humanity and Psyche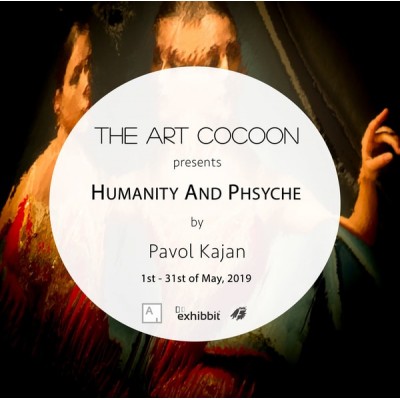 The Art Cocoon »
Humanity and Psyche
Pavol Kajan
https://www.theartcocoon.com/current-pavol-kajan
Pavol Kajan is a pioneer in Contemporary Portrait Photography, a shortlisted artist at Royal Arts Prize 2019, recognized for his unique approach in the category of staged photography. With a background in film directing and performing arts, each of his photographic compositions are carefully researched and prepared in his studio with no digital interference on the result image. The current exhibition is a selection of 18 artworks, of medium to large size photographs exclusively available at our gallery.
PRESS RELEASE
Pavol Kajan's solo exhibition 'Humanity and Psyche' is a product of his constant esoteric quest, to find the true meaning of life and humanity's purpose in relation to the universe. Through this inner exploration he brings us the message of unity and oneness. He invites us to see beyond external appearances, beliefs, and social behaviors, and acknowledge the divinity in all of us. By removing these limiting beliefs we'll connect with our heart, where the psyche exists leading us to a life of limitless love and happiness.
Through this ideology, Pavol was inspired to create artworks that visually translate the message of divinity in everyone, challenging the viewer to put aside his or her beliefs on visual based judgment of beauty, as the soul is always perfect in its core. He developed a unique technique in Contemporary Portrait Photography, where he uses physical tools at his studio to distort the subjects' physical appearance. This method is executed with the help of live models that pose in carefully selected garments.
His renaissance-like compositions are tense and sensational, creating a theatrical scene with the controlled usage of light and shade. The dramatic lighting with vivid contrasts of light and shade remind us the chiaroscuro technique used by great masters of the 16th century, such as Rembrandt and Caravaggio. This intensifies the content of the photograph underlining the subject in focus. Pavol's photographic compositions enable their viewer to connect to the essence of the person as this is revealed through the mastery of the light and shadow, the posture, movement and expression of the model.
To visit our 3D Virtual gallery click here.
On our gallery click here.