5th Ceramic Exhibition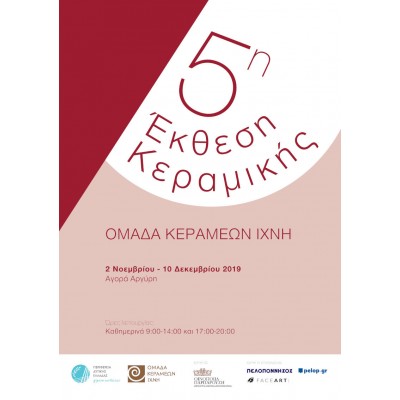 The exhibition features 40 Greek ceramists from various cities in Greece:
Mania Angelou, Vassilios Anastasopoulos, George Vavatsis, Dimitra Gerontiti, Mirka Drapaniotou, Maggi Ioannou, Manos Kalamenios, Kostas Karakitsos, Maro Kerasioti, Mirto Kollia, Xaroula Koropouli, Iosifina Kosma, Vasiliki Kiriaki, Marilena Livieratou, Zoe Likourgioti, Elsa Makridou, Eleni Marinaki - Nikolopoulou, Marilena Michopoulou, Dora Morphi, Lili Bakoyanni, Chara Bahariou, Ilias Boutaniotis, Costas Panaretos & Clio Brenner, Vouli Pantazidou, Gwgw Papavasileiou, Angeliki Papadopoulou, Vasilis Papaioannou, Dimitra Parparoussi, George Peppas, Kiki Petrocheilou, Angeliki Politi, Kleanthis Revithis, Nikos Sklavenitis, Vangelis Skondras, Dimitra Stavrou, Iphigenia Tsirou, Basiliki Fatourou, Ilias Christopoulos, Theodora Horafa.
The exhibition opens on Saturday, November 2nd, the opening ceremony taking place at 19:00 and it will stay open until December 10th. It will be open to public during the working hours of Agora Argiri Patra, from 9am to 4pm and 5pm to 8pm.
The "Ceramists Traces Group" was created in Patras in 2011 and consists of ceramists living and / or working in Patras. They aim to promote the Contemporary Ceramic Art, by organizing National Exhibitions, Ceramic Symposiums and other related activities.
Our actions so far are as follows:
1st National Exhibition "Kerameon traces", "Old Arsakeio", Patras, 2012
2nd Ceramists Traces Exhibition 2014 - "The Beginning" in collaboration with Achaia Antiquities Office, Patras Archaeological Museum, 2014
Byzantine Pottery Symposium-Exhibition, in collaboration with Messenia Antiquities Office, Troupakidon-Mourtzina Fort Complex, Old Kardamili, 2015
International Museum Day 2016, in collaboration with Achaia Antiquities Office, an outdoor exhibition and a three-day experiential workshop for elementary school students, the Archaeological Museum of Patras
4th Ceramics Exhibition 2017 "Delphi", in collaboration with Fokida Antiquities Office, Delphi Archaeological Museum, 2017
European Mobility Week 2017, in collaboration with the Municipality of Patras, the "Citizen Traces" action
Traveling on an Ancient Boat, Educational Program for 5-12 Years Old Children, Hellenic Center, London, 2018
Exhibition-Tribute to the artist Voula Gunela, Troupakidon-Mourtzina Fort Complex, in Old Kardamili and the Church of the Transfiguration, Niokastro Pylos, 2018
Exhibition of Fine Arts for the financial support of the Association of People with Disability "ALKYONI" Nafpaktis & Dorida, Nafpaktos, 2018
The Trace Ceramic Group has also organized the following seminars:
Pottery seminar by ceramist Theodora Horafa, Patras, 2016
Pottery seminar by Serbian ceramist Velimir Vukicevic, Patras, 2017
Pottery seminar by Spanish ceramist Rafa Perez, Patras, 2018
The Ceramists Traces Group
Vassilis Anastasopoulos
Haroula Koropouli
Marilena Livieratou
Vassilis Papaioannou
Elias Christopoulos