For Love Of Dissent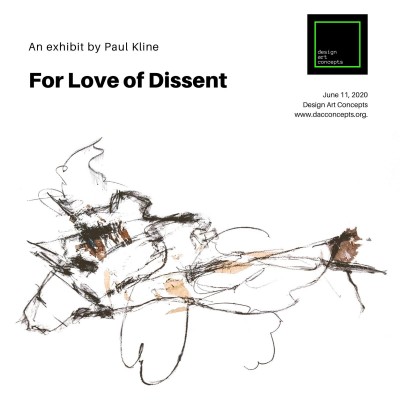 Paul Kline works with two mediums: photography and painting. When viewed in juxtaposition, they seem to be two halves of the same coin. In his photography, there
are seen for the most part landscapes that are serene and peaceful, including the horizontal line where the sky meets the horizon. There are also documentary photographs of buildings and people. These works are in sharp contrast with his paintings in which there is no identifiable object or person.
Rather, there are layers of different colors with randomized creases, shapes, and marks
all throughout. His photography seems to be product-oriented while his paintings are more process-oriented. This, of course, is with the exception of a few of his paintings which have a very clear pattern or elements of rhythm and repetition.
Nonetheless, Paul Kline's work serves as an example of the versatility of the artist, not just with the mediums used but the mindset and genres that drive each
piece to completion. The two halves that stand on opposite spectrums of each other
are birthed from the same hands that flawlessly created them.

Art Review by Chelsea St Cyr
Art Gallery Assistant at d | a | c