MeetMe … But, my dear, this is not Wonderland and you are not Alice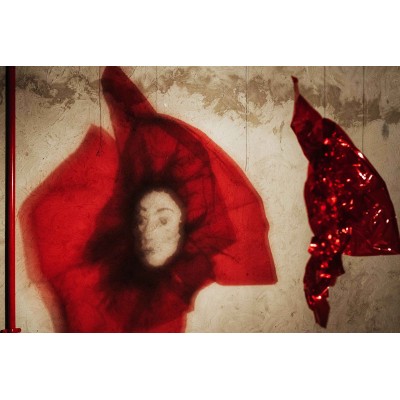 Cube Gallery »
MeetMe … But, my dear, this is not Wonderland and you are not Alice
Vasiliki Kaspiris
Michanourgio Art & Cultural Space
Cube Gallery organizes the new art project by Vasiliki Kaspiris, entitled ''MeetMe … But, my dear, this is not Wonderland and you are not Alice'', which is going to take place at Michanourgio.
Liana Zoza, curator of the art project, states: "Vasiliki Kaspiris, up to this day, has created art pieces a lot of times, using for elements the ''mask'' or the ''mirror', 'but also in the form of art objects. Born in a city like Patras, where Carnival is part of the lives of the city's habitants, her attraction to display symbols and ideas through her creations, might seem logical, considering them things she has experienced for lots of years. Her particularity though, the dipole ''mask-mirror'' lies in the fact that for her, these two have the same object: ''the one that is revealed, and the one that is hiding''.
Through her art installation "MeetΜe …" , she takes a new step in her journey, having within her ''supplies'', her continuous contact with the sets of theatre, which she knows so well that she decides to create a magic forest, where the viewer is called to coexist and communicate with ''faces'' he is about to meet, wandering there. Masks and mirrors are swinging in the space, in an unreal atmosphere, which is intensified by the special lights, curated by the director Gerasimos Ntavaris, and they wait for the visitor to reach out his hand and pick one of them, wear it in his face, and instantly play the game of transformation and discovery. Because in Vasiliki Kaspiris' magic forest, as in real life, everything happens in a moment and for a moment. Using the words of Konstantza Maniatopoulou – which was the co-director of the sonic environment among with Gavriil Kamaris: "... She has left the human conversations downstairs and then she ascended. In front of her lied a room, full of hanging masks and mirrors. Her sight fell onto a mask. She examined it closely, and realized that on the mask it was written with nice letters: Meet me. Meet me! "I'm going to meet you!" Alice whispered to herself, ''and if this is going to make me spiritually grow up, then may I will reach the key of self-knowledge. And if it is going to make me spiritually shorten, then maybe I will be able to crawl in the happiness of little things...". Liana Zoza adds " … But, my dear, this is not Wonderland and you are not Alice'', not to demystify the invitation of meeting and co-existing, but, in contrast, to empower it, in relation to the fictional story of Alice, which follows almost all of us that read it and are in search of the Wonderland. Maybe, though, we don't need to look any further than our inner selves, or than what lies opposing us, as Alice's wander was nothing more than the discovery of life through the surprised eyes of a girl full of curiousness, who struggled to decide if she wants to grow up, or remain forever a child? And wonders…"Do we really grow up by ourselves? And by growing up we lose something?" And she is not afraid to begin anymore. She finds out that growing up is like saying "goodbye". But, as well as listening to a "goodbye" that is being told to you. So, MeetMe … my dear!

Artist Vasiliki Kaspiris was born in Patras, where she is living and working. In her work, which is mainly sculptures and art creations, she chooses to use natural material, such as clay, paper, aluminium, gold and silver, and she uses to apply techniques that she has been taught, but some of them are not used anymore. Simultaneously with her art, she works as a stage designer in theatre, but also in the field of decoration. If she was asked to describe what art means for her, she wouldn't hesitate to answer that "art is a forgotten and ancient language, which connects us with our universes' history".