Flux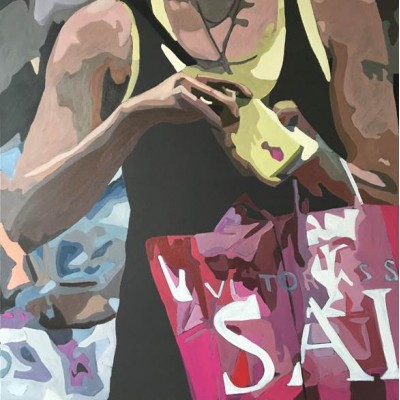 Cube Gallery, hosts the new work of the artist Christos Koutsoukis in his solo exhibition entitled "flux". This is his third solo show, with paintings, hosted in Cube, afterwards his two solo shows "Moments", 2012 and "Let's play", 2016.
Christos Koutsoukis writes about "flux": "In modern countries, with large populations of many millions of people clustered and packed in cities, urban landscape - while it expands to serve capitalist needs, at the same time reveals a strong feature of an uninterrupted movement of people, creating pictures with special visual interest. Human figures, with different starting points, cross the same point at the same time, creating an unceasing flow. This perpetual flow as an image, emphasizing on details, is a source of inspiration for these paintings. Through this intense urban centralization, we observe human forms that convey to us the sense of today's urban reality, and the fatalities of what is happening in it, such as intense movement, anxiety, loneliness or even isolation. These images, either as personal capture of the mobile camera or as a research product from the internet, constitute a point of reference for the painting compositions of this section, called "flux". This approach attempts to highlight the lack of communication between people in large urban centres, despite the fact that all of this often happens a stone's throw from each other. Is it an involuntary alienation or a conscious choice? It is definitely a response to the modern communication model that has been adopted and imposed upon us within this explosive economic growth, particularly that of the large economies of the rich countries. "

Short CV

Christos Koutsoukis studied painting at the Athens School of Fine Arts. He has presented eight solo shows and has participated in many group exhibitions and art projects in Greece and abroad. He lives and works in Brussels.

Solo Shows
2019 "Flux", Cube Gallery, Patras, Greece
2016 "Let's play", Cube Gallery, Patras, Greece
2012 "Moments", Cube Gallery, Patras, Greece
2010 "Wanderings", William James Gallery, Athens, Greece
2009 "The figure and the city", Tzamaros Gallery, Patras, Greece
2005 " Personal Space ", Zervas Gallery, Patras, Greece
2002 " Figures in Shapes", Barry Center of Arts, Patras, Greece
1993 "Lanscapes", Arta, Greece

Group Shows
2018 "On the road", Cube Gallery, Patras, Greece
"No-Ah-Fence", Art Athina
2018, Cube Gallery, Athens Concervatoire
2017 "Of Love and Other Demons", Cube Gallery, Patras, Greece
"Sequential Shift – Flux", CliqueArt, Brussels
"Saturdays without a tale", Cube Gallery, Patras, Greece
2016 "Memories", Visual Artists Association of Patras, Agora Argyri Patras Greece
"Art Fare", Cube Gallery, Patras, Greece
2014 "Art Sharing", Cube Gallery, Patras, Greece
"Honour to our teacher", Agora Argyri, International Festival of Patras Greece
"Blue Stories", Cube Gallery, Patras, Greece
2013 "Art Sharing", Cube Gallery, Patras, Greece
2012 "Art Sharing", Cube Gallery, Patras, Greece
"Visual Artists Association of Patras" Ancient Municipal Baths, Patras, Greece
"Art & Technology" Visual Artists Association of Patras, Museum of Technology University of Patras
2011 "The Garden with the Illusions", Cube Gallery, Patras, Greece
2006 "Artists of Patras" Ideal Arts Multi Space, Patras, Greece
2006 "3rd International Symposium of Painting" Vesomare, Patras, Greece
2000 "Man the Inner Space" Zervas Gallery, Rio Patras, Greece
1996 "Athens School of Fine Arts Graduates" Municipal Gallery of Alexandroupolis "Graduates '95" Athens School of Fine Arts National Gallery of Athens
1995 "5 Graduates of Athens School of Fine Arts" Youth Center Diavlos Volos
1986 "Young Artists of Patras" Hotel Astir Patras 1st Prize
1985 "Young Artists of Patras" Municipal Gallery of Patras