One thing a day,the Australian way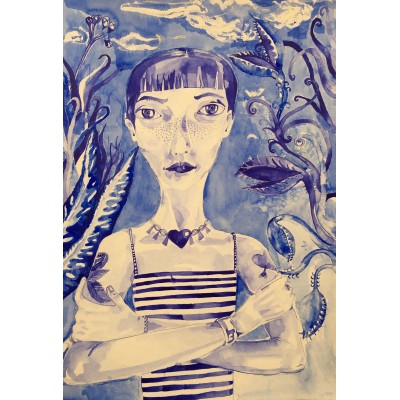 One thing a day, the Australian way…
"One thing a day" emerged about 6.5 years ago. It's a visual art diary with one image created for each separate day. Each morning around 7-8 I imprinted every thought and feeling on the paper, depicted it on a drawing or watercolor painting, captured it with my camera and uploaded it on Instagram and Facebook. This practice slowly evolved into a strong habit, like a morning ceremony equally important with water, food and breath.
Constant practice can eventually create an incredible bond with such strong habits. The first three years depicted in "One thing a day" were displayed at Genesis Gallery in June 2016, turning it into a 3D space in the form of a notebook, with more than 800 drawings, watercolour paintings, mixed media creations decorating the walls. After three years, just a couple of days after the opening day of the exhibition at Genesis Gallery, I moved to Melbourne in Australia to make a new start in my life as a different person, in a totally different part of the world.During these three years of self transformation,
"One thing a day" had turned into something even greater! It became a daily form of communication with all the people I left behind, the connection link with my previous life. It was a path of self – awareness and self - discovery as a new person. It was a diary of events and emotions which took place during the whole process of transforming myself, after making the first step to entering the unknown.
"One thing a day" became greater and more complete, with new concepts and colour combinations being added. It evolved into a visual language of expression and acceptance; an interactive communication with the internal world of emotions and thoughts, as well as the outside realm of people from around the world.
"One thing a day" is not a way to show off drawing and painting skills nor a marketing tool. It's not a display of technically perfect artworks. It is the depiction of daily life, day by day in all its curiosity and unpredictedness.
"One thing a day the Australian Way" will once again help me and George Janneris turn genesis gallery into a notebook of explosive dimensions, an artistic diary. How long is One thing a day going to last for and what's its purpose? I really have no idea nor intention to think about it. For now I simply enjoy starting my day by bringing my brush in the colours and then lay them down on the paper, in the morning silence.
Christina Darra
Art Manager and Curator: George Janneris