Once Upon a Time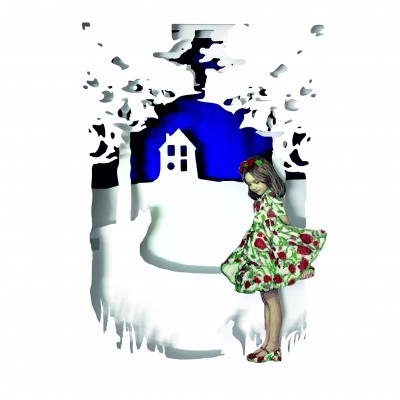 Cube Gallery »
Once Upon a Time
Art Project under the Art Platform "We share the art ..."
At Cube Gallery we love to "share the art …" every December but also throughout the year, because "sharing is caring". Therefore, this year's art project "Once Upon a Time", on which the special collaborators of the gallery created their artworks, offers the chance to acquire a unique piece of art at a fair price and in addition to supporting children in need, as part of the proceeds will go to SOS Children's Villages.
Driven by the principle that art is not a luxury but a commodity, we introduced the art platform "we share the art ..." 8 years ago, with the aim of communicating contemporary art to the general public through actions and projects. At this year's art project "Once Upon a Time" Cube's new and former artists meet, consciously believing that art is addressed to everyone, and consider equally important both the acquaintance with art and the acquisition of a work of art by everyone.
The outcome of this gathering is original works (painting, photography, art objects) at a fair price. The exhibits will be available for immediate purchase and will be renewed, if necessary, throughout the project.
The idea of the title, as well as the concept, sprang to Liana Zoza's mind, the curator of the project, from the desire to present visual stories either inspired by existing ones in our well-known fairy tales, or by a personal story of every artist involved! After all, as Yiannis Tsarouchis used to say:" It is only through fairy tales that people are conquered. ".
Participating artists: Bleeps, Felipe Chavez, Harshit Joshi, Brendan Kelly, Ilias Aidonidis, Nikos Vatopoulos, Vassilis Zozas, Vassilis Karakatsanis, Anna Karatza, Sofia Kyriakou, Nikos Kryonidis, Despina Konstantinou, Fanis Logothetis, Andreas Lyberatos, Alexandros Maganiotis, Eleanna Martinou, Elli Barbagianni, Ismini Bonatsou, Tita Bonatsou, Andreas Nicolaou, Alexia Xafopoulou, Aristea Panagiotakopoulou, Nikolaos Panagiotopoulos, Vassiliki Pantazi, Gefso Papadaki, Xenofon Papaefthimiou, Yorgos Papakarmezis, Sophia Paraskevopoulou, Georgia Paraschi, Constantinos Patsis, Spiridoula Politi, Voula – Paraskevi Ferentinou.
At the same time this year as well, during the festive season, Cube Gallery will host the original creations – art jewelry, exclusively designed for Cube Gallery by Betty Vakali, Irini Kanellopoulou and Eva Papastathi - selected Art and Design Objects by Betty Vakali, Marigo Kassi, Vassiliki Kaspiris and Vasia Patiniotou and the art diary 2020 "The Other Wind" with the Christos Kechagioglou's paintings, to offer with your precious wishes.
Curator: Liana Zoza