Une liaison pornographique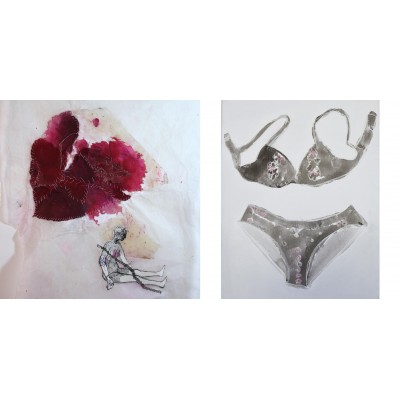 Cube Gallery »
Une liaison pornographique
Marigo Kassi | Spiridoula Politi
At Cube Gallery, we welcome February with Marigo Kassi's and Spiridoula Politi's artistic dialogue, entitled Une liaison pornographique. Each of the artists comments on their own unique style, the love, the desire and also how the love act can be separated from the emotion. For Marigo Kassi and Spiridoula Politi, it's not the first time they are invited to co-exist in an artistic dialogue, as they are both founding and active members of the Indoors art group, but it is the first time they are invited to discuss through a "pornographic" relationship, taking an extra boost from Valentine's Day, as the exhibition opens on Friday, the 14th of February 2020.
"I am terribly alive, full of pain, and I absolutely feel the need to see you. I have to see you. I see you shining and wonderful, and at the same time I am writing to June and I am breaking into pieces, but you can understand me. You have to understand me Anais, and stand by my side. You are everywhere, all around me, like a brilliant fire. Oh, if only you knew Anais, how I feel right now… I want to know each other better. I love you. I fell in love with you as you came and sat in my bed – all that second afternoon with you was a warm humidity- and I hear again the way you speak my name- with your weird accent. You wake me up to such a mixture of emotions- I don't know how to approach you. Just come near me, come near me, and everything will be beautiful. I promise you…'' writes Henry Miller to his eternal lover and priestess of love literature Anaïs Nin, in one of the infinite letters exchanging between them. It is said that only in the year 1932, Miller sent nine hundred multi-page letters to his mistress, as mentioned in her book Henry and June.
So when can a relationship be described as ''pornographic''? Are there boundaries and if so, when are they exceeded? Is it possible in a relationship to manage the emotion, and how? These and more questions that have bothered in the past writers, artists, filmmakers and well-known psychoanalysts, we decided to make them a ''female'' issue and create a site-specific installation in Cube Gallery, where the visitor can browse through the works of the two artists, sometimes hard, sometimes airy, but always in a very personal way, with the desire to meet in another dimension!
Liana Zoza, Exhibition Curator
Are love and desire the same thing? They are certainly transportable containers, with an ever-changing ratio. Perhaps it is precisely what often distinguishes the boundaries between the two.
How do we experience and embody our emotions, love, lust, joy, fear, anxiety, pain, longing? What symbols do we use to picture them?
The body organs have the first word. The stomach, the liver, but the heart is dominating concerning the symbols. This is the most widely used, the most versatile and the most painted organ of the human body. Even from the mind. This is what you see in charge of the symbolism of logic, and logic is lost when passion prevails. My heart aches. My heart has wings. My poor heart. It was like a knife in the heart. My heart became thousands of pieces. It breaks my heart In two pieces. You blacken my heart. Black or red heart, heart glowing, broken heart, cracked, melted, pierced by the arrows of love.
The use of the image of the heart in these works came to me spontaneously. An injured heart, like the ones that have lived and suffered. A heart that over time heals its wounds, unites its pieces and stitches them with golden threads.
On the contrary, the image of love through the raw, sometimes violent, cheap sex of sensual films of an emotionless subculture.
''Erotic'' designs have always been on my mind- eroticism is also a big part of our lives, but the more classical depictions of a couple didn't feel like being enough for me. So I turned to a raw, more direct and at the same time more real source. Sensual movies. These have been the tool, may I say, of the designs.
The erotic act becomes something physical, hard, elusive, naked. The multiplicity of images in these films, the fragmentation, the focus, the intense physicality, gave me the solution about the form of this work.
The designs thus, acquired expressionist writing, multiple fragmentary images, close-ups, moving members and bodies as if they were sailing, or floating in a rather unspecified space.
Tension dominates as well as the sense of loss of perception of time and place. That was at least my artistic intention, as expressed by the almost transparent and fragile paper.
Marigo Kassi, Artist
The erotic element appears in my work from time to time, either in the form of design or construction.
An intervention in a garment of mine, drawing a garment, or a woman on the beach, a couple.
To a large extent, my work is based on memories and my experiences. It is the result of all this and the processes that take place within me.
Today's intake of daily life witnesses a release of both leaves, eliminating the ridiculous feeling of shame that has caused the naked body in the past.
The tiny underwear, hot shorts, leggings and generally women's fashion provokes.
The naked body is still banned in public view. However, it is not forbidden to collect erotic and emotional reactions experienced by the artist and the world.
It is a combination of favorable circumstances (such as fashion, visual arts, poetry, cinema) that mark the new era, removing taboos and human prejudices.
I idealize and envision the ideal relationship with projects with couples.
I modify and transform the negative aspects of life into positive ones.
Art gives me that opportunity and that gives me a purification.
Spiridoula Politi, Artist