Athens Jewelry Week 2020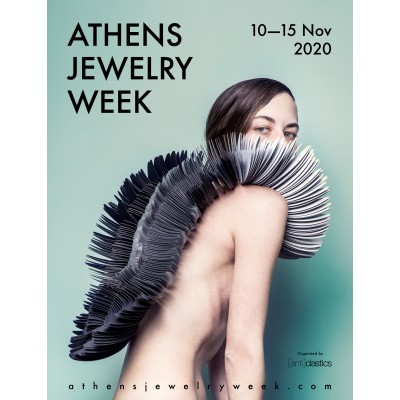 Athens Jewelry Week 2020
10 - 15 November 2020

For the fifth year in a row, contemporary jewelry meets the Athenian audience in an art event, Athens Jewelry Week, with international participations.
The objective of this dynamic institution is to present to the Greek audience the trends and the rich diversity of contemporary art jewelry, as they have been evolving in Greece and abroad.
In the framework of the international jewelry scene, the organization constitutes the Greek presence on the world map of equivalent art events with an ever increasing in-terest. AJW 2020 covers a week of exhibitions, lectures and workshops, highlight-ing contemporary jewelry makers, their art and their authentic voices.
This year, due to the restrictions of the pandemic, the festival will be ONLINE, through the website www.athensjewelryweek.com.
The exhibition titled Art + Jewelry: Intersecting Spaces, aims to present the excep-tional work of 25 artists. The festival also includes group exhibitions, solos, and per-formances as well as lectures and seminars. Jewelry schools from all over the world will be showing their students' work.
The closing of the events will be marked by the awards ceremony. Awards will be given by international institutions/entities that are active in the contemporary jewelry field.
Popeye Loves Olive Art Space will host the work of 17 artists in a group exhibition on Athenas Street, opening its doors to the public on November 10, 2020.
This year the festival is held under the auspices of the Ministry of Culture.
AJW 2020 SCHEDULE
Sunday 8/11
14:00 - 19:00 Workshop with Liana Pattihis (Open to participants only)
Tuesday 10/11
17:00 - 17:40 Lucie Hudková
17:50 - 18:30 ARKIVET
18:40 - 19:20 Mária Roskó
19:30 - 20:10 Xiangyin Shi
20.20 - 21.00 Nanna Obel
Wednesday 11/11
12:00 - 17:00 Workshop with Liana Pattihis (Open to participants only)
18:00 - 18:30 Welcome
18:15 - 18:20 Video: ART + JEWELRY: INTERSECTING SPACES
18:30 - 18:40 Intro
18:45 - 20:30 Conversation participating Panel and Individual Artists. Attendance open to all
Thursday 12/11
12:30 - 13:30 An on-line workshop by Haritini Karliafti, from the FaceArt jewelry team (Open to all with registration)
17:00 - 17:30 H6
17:40 - 18:10 HS PF Pforzheim University, School of Design
18:20 - 18:50 Roberta Consalvo Sances
19:00 - 19:30 Dania Chelminsky
19:40 - 20:10 Assamblage Contemporary Jewelry School
20.20 - 21.00 Caracú
Friday 13/11
17:30 - 18:00 UNOSTO
18:10 - 18:40 PERMORMANCE by Mária Roskó
18:45 - 19:15 Alice Floriano Gallery
19:25 - 19:55 Anna Zeibig
20:05 - 20:35 Jewelry Links
20:45 - 21:15 Lié.e.s
Saturday 14/11
16:50 - 17:20 Anamma Studio
17:30 - 18:00 Alliages Gallery
18:10 - 18:40 Krama Institute
18:45 - 19:15 Oslo National Academy of the Arts
19:25 - 19:55 Marina Zachou
20:05 - 20:20 Yakinthi Oikonomou
20:30 - 21:00 Popeye Loves Olive Art Space
Sunday 15/11
14:00 - 17:00 Workshop with Liana Pattihis / Final Presentation (Open to all)
17:30 Matt Lambert – Kelly Arnaoutaki
19:00 AWARDS Ceremony