Painful Hope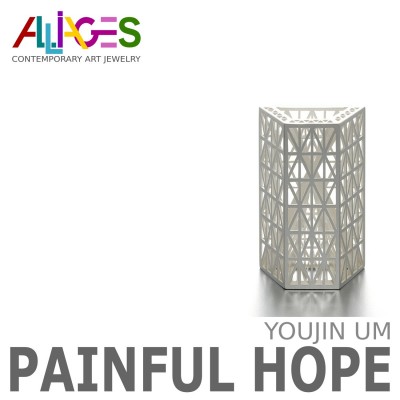 Youjin Um »
Painful Hope
Alliages Contemporary Art Jewelry
111 Boulevard Victor Hugo 59000 - Lille FRANCE
When the silence becomes painful, there is always a light of hope …
PAINFUL HOPE, the new exhibition held in Alliages gallery, Lille from December 12th 2020 to February 13th 2021, and in Munich city center for Schmuck 2021 from March 10th-13th, 2021. The exhibitions is proposed by ALLIAGES and curated by Juan Riusech.
The opening of the exhibition will be held on Friday December 11th, 2020 at 6 PM at ALLIAGES gallery.
ALLIAGES | ESPACE APACE:ART – 111, bd. Victor Hugo – F-59000 LILLE – +33(0)3.30.52.68.30
Alliages gallery schedule : Mo/Fri : 10-13h & 14-17h – Sa : 10-16h30 (See contact page to have the opening hours)
« Painful Hope » will show the works of Aimee Howard-Clinger, Alison Brown, Anna Fanigina, Anne Léger, Babette von Dohnanyi, Beate Pfefferkorn, Raphaëlle Léaux, Charlotte Vanhoubroeck, Dania Chelminsky, David Walker, Deimezi Xenia, Einav Benzano, Elisabeth Drude, Elvira Cibotti, Emilie Le Dez, Esther Ortiz-Villajos, Eva Tesarik, Fabiana Gadano, Hairuo Ding, Holland Houdek, Huang, I-Chia, Huiyou Chiu, Iris Merkle, Isabelle Busnel, Jason Stein, Jillian Moore, John Sullivan, Joshua Kosker, Juan Harnie, Juan Riusech, Juanjo Garcia Martin, Lee Baeyens, Leyla Taranto, Mado Xanthouli, Mai Zarkawi, Malene Kastalje, Masako Hamaguchi, Maud Traon, Mervi Kurvinen, Monica Bobbi, Namkyung Lee, Nico Delaide, Qi Han, Rachel Butlin, Raquel Bessudo, Rho Tang, Rikke Lunnemann, Saadah bin Shehab, Sandra Ortiz, Sara Shahak, Sébastien Carré, Spam Glam, Taibe Palacios, Teresa F Faris, Ute van der Plaats, Viktoria Muenzker, Xiangyin Shi, Xinia Guan, Yael Olave Munizaga, Yiota Vogli & Youjin Um.