Meet the Artist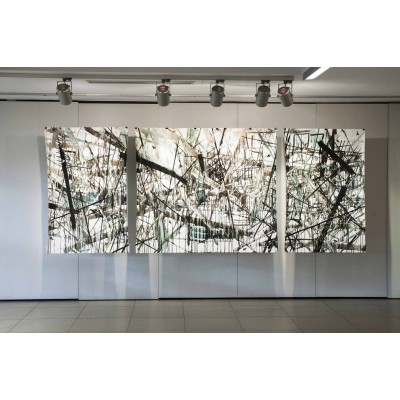 Cube Gallery »
Meet the Artist
Eleanna Martinou | Invented Metropolises
Mosaic // Culture & Creativity
Cube Gallery and Mosaic // Culture & Creativity launch dynamically into the autumn through the art project Meet the Artist on behalf of Cube Gallery, which will be hosted in the new Mosaic space. Meet The Artist is an ongoing project, curated by Liana Zoza aspiring to create a direct connection between the public and the artists and their works. This is exactly the goal served by hosting the project in Mosaic// Culture & Creativity, a place of predominantly networking organization, cultural innovation and creative collaborations.
The opening is scheduled for Friday, September 17, 2021, at 20.00, with our first guest, visual artist Eleanna Martinou. Her Invented Metropolises will mark the beginning of the project. An installation consisting of two large-scale artworks, will be hosted upon the "Wall" of Mosaic until October 10th, 2021 with our desire for the continuity of the project at regular intervals with different artists. During the opening, the guests will have the opportunity to talk with the artist, about her work and her progress so far.
Eleanna Martinou, states: "INVENTED METROPOLISES / Radar is a drawn mapping of urban networks. Flow streams and buildings appear on a micro-scale (e.g. Blue Building Exarcheia, Kapnikarea church, family house in Kyparissia), reveal human activity in the landscapes of the human mind. The network refers to the image of cerebral synapses while depicting a human emotion or a remembrance of memory, in the aggression of the modern urban environment. Time and space are not recorded linearly, but as Rhythm, Mass, or Labyrinth."
During the opening, all the measures for the pandemic provided for the cultural sites will be respected.