In No Time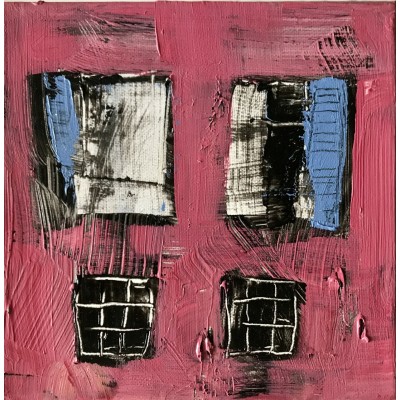 Cube Gallery hosts the new work of the visual artist Andreas Nicolaou, from October 8 to November 6, 2021, under the title In No Time. This section of artworks consists of small to medium-sized paintings that will be displayed as an installation in the Gallery.
Liana Zoza, the curator of the exhibition, states: "Facing at the "houses" of Andreas Nicolaou, the first thing you realize is the absence of the architecture and although they are depicted in their most understandable form, they are not architectural spaces. Observing them carefully, the spectator can distinguish the hidden existences behind their facades, the painted by the patina of time walls, half-closed windows, spidery skylights and tightly sealed doors.
They are houses that were haunted by the people who inhabited them once and perhaps some are. The marks on the walls point to the marks of their souls. If we are to accept that architecture is the science tied with reason and practicality, even if occasionally deviates in the search of the dream, then the "houses" of Andreas Nicolaou can certainly not be included there. They are and they are not houses. They could be scenery, facades made for the absurd theatre of life, although the protagonists remain hidden in the security of the backside, leaving the time, the wounds, the desires and the anxieties to be erased on the crumbling plasters."
The title of the exhibition In No Time, which in free Greek translation, could be "In Zero Time " works like a nice game, connecting time and memory with the central element of the Art project that is the building.