l...as love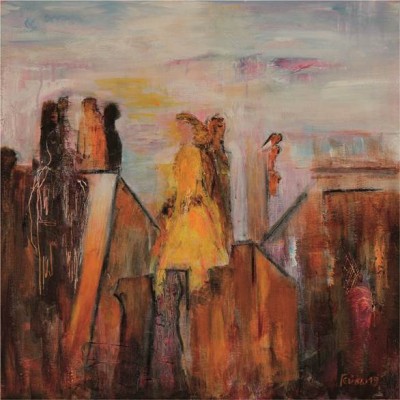 Cube Gallery, inaugurates its collaboration with the artist Gefso Papadaki and hosts her solo exhibition entitled "l … as love". It is her second exhibition which is related to love, and the fourth in which the paintings are inspired by Greek poet's lyrics, and it also constitutes the sequel of "Love Syllables".
Art historian, Iris Kritikou, in a quote from her text "In the shade of poetry", concerning the exhibition "Love Syllables", wrote: "Gefso Papadaki is a "mighty reader". Starting with her favourite poems and assisted by their internal reason, she paints without simply looking, but instead she perceives their soft vitals. Her paintings leaving behind the explanatory narration, calls the spectator to look within them".
Yes my beloved
Long before I met you
I was waiting for you…
And when we met for the first time-do you remember?
You spread your hands with tenderness,
Like you knew me for years
But of course you knew me.
Because before you enter my life,
You had lived in my dreams my beloved.


(Long before I met you, I was waiting for you - Tasos Leivaditis)
The lyrics taken by the poem of Tasos Leivaditis, "Afto to asteri einai gia olous mas (This star is for all of us)", are not the only ones the spectator meets, in this interesting conversation between poetry and visual art creation in the exhibition "L…as love". The images that are created are sensitive and magical, and how could they be different, when love works as a motive for the artist. It's the love who revives, who gives you wings. The love which is the spark that becomes fire. Love which brings life in the world and love that cures. And who could imagine life without love! In Gefso's Papadaki works, love stories come and go, but in all of them love appears as a source of life, a life-giving eros that becomes love and affection, a love that isn't completed and a love that disappears.
Love ... spelled or wordless, imaginable or alive, between the lyrics of Maria Polidouri, K.P.Kavafis, Giannis Ritsos, Tasos Leivaditis, Titos Patrikios and Maria Laina, becomes a game about love, which moves in circles. The limits between eros and love are hard to define and the reason is no other than the insignificance of their delimitation in this journey! And the journey of eros and love continues…
I wonder how desire originates from nothing...
How desire become eros,
And how eros changes into a distant memory?
I wonder how can a memory die out into nothing?


(Kikliko, Titos Patrikios)
Short CV - Gefso Papadaki
Born in Istanbul, Gefso Papadaki, graduated from Vakalo Art and Design College and she did further studies in Fine Arts, focusing on Drawing, Colour, Byzantine Icon Painting, Material Technology, History of Art and Sculpture Molds. She is a member of the Greek Chamber of Arts. She has worked on murals, stage paintings, book covers and has been teaching Art classes to primary school children. She has also been involved in arts creative activities for children with disabilities. She is a columnist for the Kinsterna journal of Literature and Art and has published two painting related books. Her works are found in the collection of the Beijing National Gallery, in the collection of the Olympic Fine Arts 2008, in Beijing. Moreover in Moschandreou collection,in Hadjioannou collection, and other private collections in Greece, U.S.A, Belgium, France, Austria and Luxemburg.
She has participated in more than 100 exhibitions in Greece, Belgium, Lithuania, Romania, Slovakia, Turkey, France, as well as in the 23rd Art Fair, "Artist 2013" in Istanbul, In 2008 she was among the artists that represented Greece in the 3rd,Beijing Biennale. Gefso's latest work is inspired by the lyrics of great Greek poets.